Thanksgiving is coming. Giving children Cooghi V1 and V3 pro scooter gifts is very lovely.
Thanksgving is coming. Children also need beautiful and fun gifts. Cooghi V1 and V3 pro scooter are good choices. Are we here for the best "cool kid" pro scooter? You want a pro scooter that is well-made, exciting, and cool enough to use for years. A pro scooter that children will always love.
Cooghi V1 pro Scooter is suitable for boys and girls aged 3-8. The height of the handle can be adjusted in 3 gears. The classic model has PU wheels, and the luminous model has LED light wheels when running. Both wheels are silent.
Parameter:
Cooghi V1 is suitable for ages 3-8;
Recommended height 90-140cm 35-55 Inches;
Pedal load bearing 110lb;
Pedal width about 12cm wide;
Wheel size The diameter of the front wheel is 12cm, and the thickness is 2.4cm;
The diameter of the rear wheel is 8cm, and the thickness is 2.35cm;
The single slide model (V1) can only slide and is suitable for children aged 3-8; the colors are cool ride green, sky gray, cherry pink, lake light blue, and Christmas red.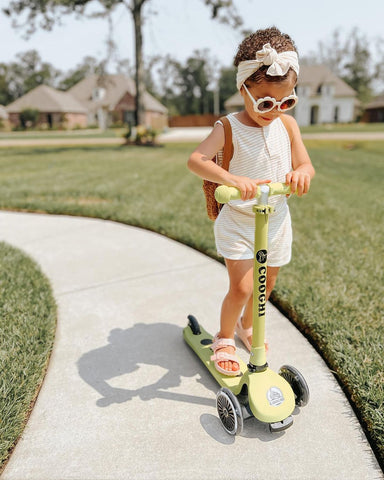 Cooghi V3 pro scooter is suitable for 1-5 years old, able to ride, slide, and control the trolley in any direction, and is safe and reliable
parameter:
Applicable age: Riding mode: 76-95cm, about 1-2.5 years old
Sliding mode: 90-110cm, about 2-5 years old
Maximum load-bearing: the seat can bear 40 catties
Pedal load: 100 catties
Seat width: about 11cm wide
Pedal width: about 12cm wide
Color box size: 60.5x17x26cm
Outer box size: 61.5×18.6×28cm
Wheel size: front wheel diameter 12cm, thickness 2.4cm
Rear wheel diameter: 8cm, thickness 2.35cm
Function
1. One car with three functions can ride, slide, and trolley; one with three parts makes it easy to switch between different modes without tools, and the push rod can be disassembled anytime.
2. Gravity steering intelligent turning anti-rollover. The car is gravity steering, and the steering can be turned by lightly pressing the handle to the left and right, which can effectively prevent rollover, and the principle of push rod steering is the same.
3. The anti-collision pad can effectively absorb the shock when it is under force and rebound, effectively buffer the strong shock caused by accidental impact, prevent the forward tilt and protect the spine from being injured due to the residual power of the result, and make the baby slide more safely.
4. Exercise children's balance; enhance children's reaction ability and promote leg development; cultivate children's self-confidence and bravery.
5. The height of the push rod can be adjusted freely, adapting to the size of different mothers, and it is easy to push without bending over.
6. PU wear-resistant silent wheels, you don't have to worry about disturbing the neighbors downstairs when playing at home.
Wilson: This three-wheel scooter V1, V3, with a simple design and good-looking appearance, is suitable for 3-8 years old. The V3 can ride, slide, and can trolley specially designed for children aged 1-5. It can make other children like the scooter for kids. It is our Cooghi best-selling V1 and V3 scooter; they give a perfect eye-catching design.
Brown: The V1 is suitable for 3-8 years old, and the V3 is ideal for 1-5 years old. For children, the Cooghi bike is delightful. From professional children's engineering designers, the smooth glide of V1 and V3 will make them different from other scooter brands. V3 allows children to slide, ride, and play with a trolley. It will look more exciting and fun for children without getting tired of playing. The lightweight Cooghi bike is suitable for children who love to move and play. When the children are tired from playing and go home, they can be packed and folded at any time. Cooghi V1 and V3 have classic models and luminous models. The brilliant model slides with bright LED wheels, which is very cool!
Miller: Ready for a new way of riding? Try Cooghi V1, V3 3 wheel scooter! Cooghi V1, V2, V3, and V4 scooter are suitable for use at home, gardens, parks, skateparks, and sidewalks, bringing children a new and excellent experience. Cooghi bike has a variety of colors for consumers to choose from, and it is children who like scooter The first choice is to play to the extreme.
Williams: Cooghi V1 is very stable for children to play and slide. Cooghi V3 is a three-in-one kid scooter that can slide, ride, and trolley. Cooghi bike is an excellent, simple, and color design element. The inside gives a perfect look and is a great way to play in yards, parks, homes, sidewalks, etc. Many children have loved it with its excellent ideal look.